2016 was a GOOD YEAR for us !
Dear Brothers and Sisters,
All of us on the board of Susila Dharma USA send you, the members of Subud USA, our deepest thanks for your continued financial commitment, prayerful support and interest in the projects we assist here and abroad.
We are a grassroots organization that seeds the charitable efforts of those working to help communities in the US and abroad. We support projects by envisioning better futures, furthering opportunities for education, fostering healthier food and farming practices and establishing community involvement. Our efforts help to break the cycles that perpetuate poverty by inspiring creativity and mentorship for the poorest people and bring hope where it is most needed.
This is what putting the latihan into action looks like in the world and you helped to make this happen. Thank You!
As Bapak said in one of his prayers:
May we be granted wisdom,
The wisdom of humanity
While in this world and in the next,
So that in the end we can stand
Before Almighty God.
---
The SD USA Board of Directors Meets in Elk Grove, CA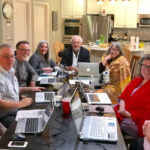 The Board returned home last week after meeting together in Elk Grove, California. There we decided on how to distribute your donations among the various projects and continued the important discussion of what it means to be a Wing of Subud USA. Evan Padilla stepped down as our Chairperson, and after some very interesting testing, Aminah Hermann is our new Chairperson, with Miriam Moyer as Vice Chairperson. You can read about it here…