A Successful Gathering and AGM
The past year has been eventful for the SD USA Board. Illness, house fire, a move to Africa —these were some of the reasons that more than half of our board members had to resign or take leaves of absence. Aminah Herrman and Miriam Moyer, both relatively new members tested in as Chair and Vice Chair in February, while Jake Sterling worked diligently to re-design our web site and e-news. At the same time, we have been revisiting our mission and our role as a wing of Subud USA that is also part of the worldwide Susila Dharma network that is headed by SDIA.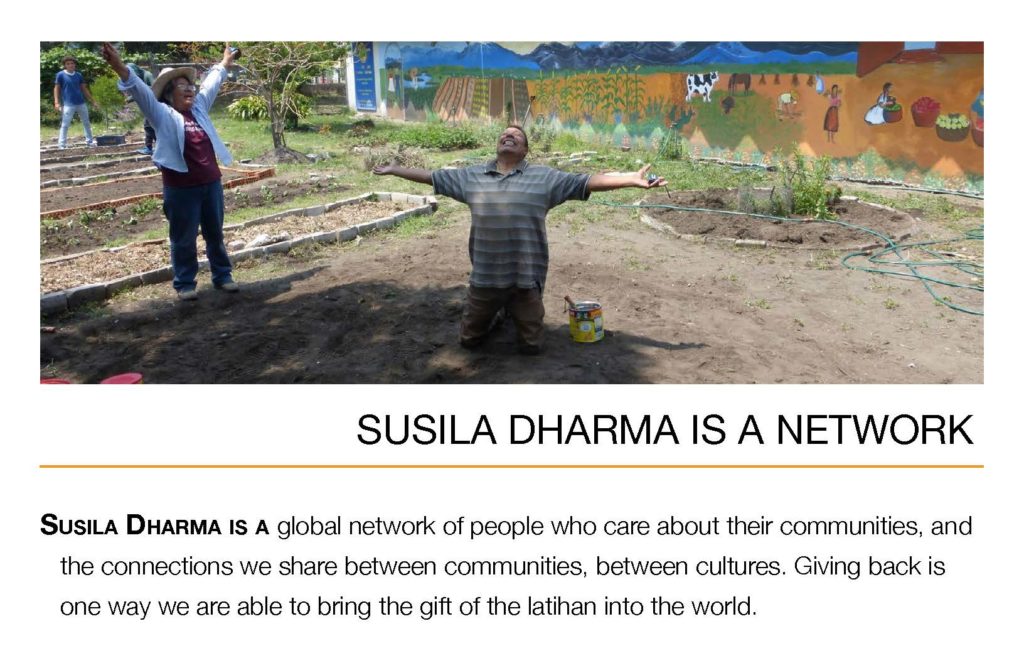 We came to the Subud USA National Gathering over the Fourth of July weekend with a big agenda. We wanted to reconnect with our membership and We were able to accomplish
all of these goals. let people know about the incredible work that is going on in the USA and around the world. It was a chance to work together to address the challenges we face, alongside some inspired fundraising for the projects we support. And, finally, we hoped that our presentations would inspire some to come forward to test to join us on the Board.
We were able to accomplish all of these goals. We arrived early and spent three fruitful days doing latihan, clarifying our goals and testing our mission. At the SD USA Annual General Meeting, Aminah and Jake gave photographic presentations of the projects in Kalimantan, India and the DRC, and spoke of our hope to fulfill our role as a charitable Wing of Subud no matter how small or large a project may be that requires funding within our SD network.
New members of the SD USA Board
We appealed for candidates to fill our empty board positions and a number of people stepped forward to test. As a result, we are very happy to announce that we have four extremely competent new board members: Fauziyah Ishak, Abdul-Mu'izz Shams, Kimberly Joseph and Michele Stice. You can learn a little about their talents and abilities on our Board of Directors page.
Montreal Meeting: Susila Dharma is a Worldwide Network
On July 20th, three SD USA board members will meet again, this time in Montréal for the SDIA annual board meeting. At the meeting in Montréal we hope to develop more concise ways of working together as a network and to explore working with other organizations outside of Subud. Together we can increase our workforce and widen our donor base beyond our Subud membership.