Oakland, CA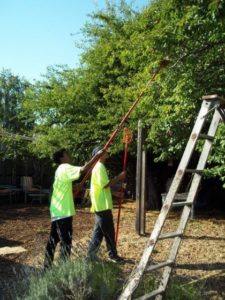 People United for a Better Life in Oakland (PUEBLO) is a multi-ethnic, multi-issue grass-roots organization with more than three hundred low-to-moderate income member families from across Oakland. Its members, leaders, and staff are people of different races, cultures, ages, genders, abilities, sexual orientations and income levels. Its mission is to build the leadership potential of its clients through education and skill development, direct action, coalition building, policy research & analysis, and, most importantly, developing strong youth leaders.
UYH (Urban Youth Harvest) is a creative low-cost program operated by PUEBLO. It was originally started four years ago by Subud member, Rashidah Grinage. It has created a marvelous web of mutual assistance between many parts of the Oakland low-income community. Donors in the local neighborhoods allow otherwise unused fruit from trees in their own yards to be harvested by youth earning a part-time summer income. The fruit is then delivered to low-income recipients (mostly seniors) living on unhealthy diets very low in fresh fruit and other nutritious food items. UYH offers a full-circle solution seniors, youth, and community all benefit. The program is expanding to include school-based education programs offered to public schools and youth service organizations.PUEBLO staff and its youth interns will provide education about food systems, food security/access issues, and basic nutrition and food choices.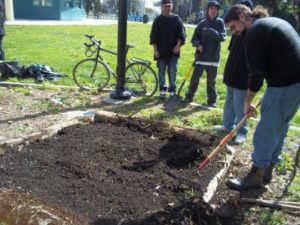 Susila Dharma USA is proud to be able to support PUEBLO/UYH for the upcoming year by partially funding its Youth Park Stewardship summer job-training program.Youth ages 15-21 will carry out resource improvement and public education projects in Oakland's underutilized public parks. Projects such as community garden design/installation, ecosystem restoration with native plants, outdoor explorations for younger children, and interpretive signs/tours for adults will apply resource management principles in ways that directly benefit local ecosystems and human communities. At-risk youth will be trained by contractors and resource management experts from the local community to gain skills and connections needed to obtain entry-level employment positions.