Eid Mubarak!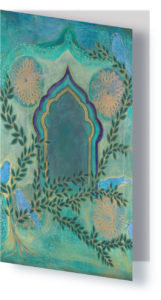 The end of Ramadan is a time of generosity and almsgiving. This year, SD USA offers you the opportunity to give a gift in the name of someone you love. This card was created from a painting by Aminah Herrman, inspired by a mosque she saw in India.
Below, you can choose the size of the donation you wish to make and also, if you have an SD Project you would particularly like to support, you can direct your donation there. The card will be filled out with the amount of your donation and sent to you. The card and blank envelope will be sent to you to personalize and give at Eid al Fitr (Idul Fitri).
This is our first SD USA Gift Card. If this effort is successful, we hope to increase our selection; so check back this September!
---