This year the camping season was a challenge for Sulfiati Harris, the director of Camp Badger, because her husband, Sjarifuddin, had a major health challenge. She wasn't sure if they could even pull it off. "We have been doing Camp Badger up here in the mountains east of Fresno for almost a decade," She said, "and we already had over 40 campers signed up!"
The Teen Adventure Camp had to be cancelled this year because Sulfiati couldn't be sure that she would be able to set it up well enough that everyone would be safe—these adventures can be dangerous! But she met with the counselor team from the home school group in Visalia and they helped to plan a program for both camps, spreading out the work so that Sulfiati had the help she needed and the camping season commenced.
The challenge, Sulfiati tells us, helped her to let go of the reins somewhat and to let others help carry the camp, training younger people to take on the responsibility of running different parts of camp—the program, food prep and shopping, young leaders took part in every aspect and they succeeded!
The counselors were active in planning and presenting the program, which allowed Sulfiati to focus on the big picture. Badger now has counselors who were campers for the previous five years, now young adults, dedicated to continuing the camp. As these young people begin to carry the camp their connection to the community changes and strengthens. They want Camp Badger to continue.
Camp Badger continued to the Arts Camps, organizing the camp around an all-camp adventure game, which added energy to the program and decentralized the planning so that the counselors were more involved.
— Settlers of Badger —

Imagine…
"There used to be a thriving civilization in this area
but it vanished and no one knows why…
"…however, there is a Book of Elders hidden on the
property somewhere that will show us how to re-create it."
After finding the book, campers divided into four groups: Builders, Explorers, Healers and Artisans. Each group was led by a counselor who came up with the activities. In the afternoon there was swimming, tie-dye, and video meetings, at night, campfires with skits and singing. One of the counselors, an eighteen-year-old-girl named Hadley, who had been a camper for six years before becoming a counselor, wrote this to Sulfiati after camp was over:
I think that it is cool how Camp Badger connects people. There…isn't anything else like it. Nowhere else will you find the same atmosphere, or people who care so much about what they're doing. All the staff I've talked to have told me they do it for fun and they'd do it for free. Emily and Kimberly (2 new junior counselors who work for free) both said that this was their favorite part of the summer and that they really loved being there. I think that says a lot about how much people believe in it, if they say they'd do it for free just because they love doing it. Emily told me multiple times that she hopes you call her back for next summer. I think the passion from the staff is there; and because of that, no matter what we do, the kids have an awesome time. Tai, Arianna, Aryanna, Grace, Caleb, Tyler, Carter, Haley, and a few others all…told me how much fun they had and that they couldn't wait for next year. Tai told me she looks forward to it all year long. A camp has succeeded if everyone there loves being there. If there's anything you ever need me to do I'll do it." 
Hadley is touching on the most important thing about Camp Badger. It is the feeling of love, trust and camaraderie between us all. Sulfiati is the only person there who is in Subud, but she points out that there is a feeling of a lively connection, acceptance and happiness like what she experiences at a Subud congress. I this, she says, is what Hadley is talking about when she writes, "nowhere else will you find the same atmosphere".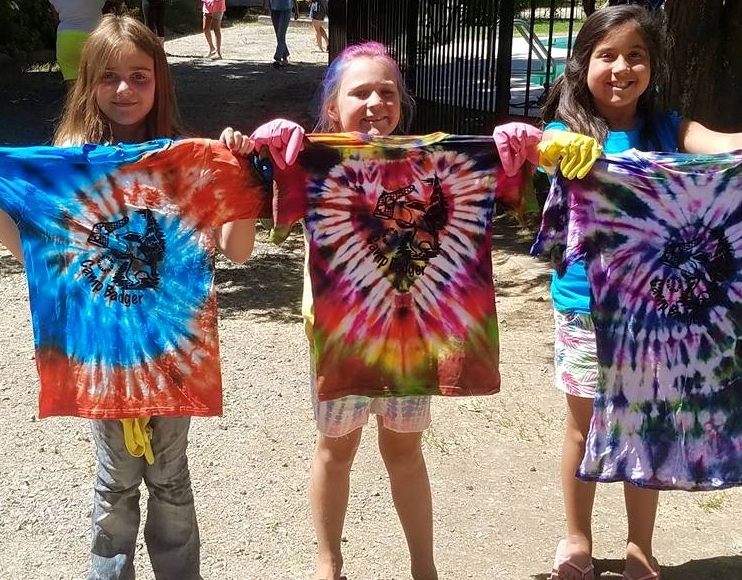 On the Susila Dharma website there is the statement "Giving back is one way we are able to bring the latihan into the world." That is what is happening here. It is a subtle, but strong and important energy we bring into the community and I believe it comes from the latihan.
Camp Badger is thriving and Sulfiati and the Camp Badger staff thank Susila Dharma USA and all the donors for helping us keep on growing.
---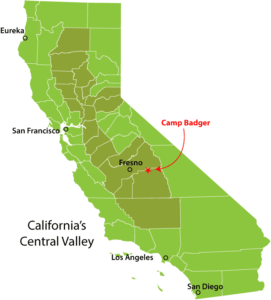 California's Central Valley ranks as one of the top five regions in the United States for rural childhood poverty. Our participants come from two school districts in this region. Cutler-Orosi USD: encompasses farming areas of the Central Valley and isolated mountain communities in Tulare County; 71% of households in its district are under the poverty line. Kings Canyon USD: Fresno County, which includes Central Valley farm towns and mountain settlements; 73% of its students qualify for the free or reduced-price lunch program.
Exploring creativity and choice through the arts profoundly affects children by giving them the challenges they need to grow and flourish, along with the self-confidence and inner strength to effectively communicate their ideas, feelings, and needs in school and at home. Camp Badger's goal is to provide children with these opportunities and, by doing so, to strengthen and broaden the foundation on which their adulthood will be based.
Camp Badger's program centers around four main ideas:
Inspiration — helping each camper try out all kinds of creative experiences and helping them find areas where they excel.
Caring — building a camp community where we all work together and support each other in our efforts.
Health — fostering a healthy and balanced lifestyle that includes good food, exercise, and enough sleep.
Tools — helping each camper develop tools for making their way in the world, including being able to speak to an audience, being able to think critically, and effectively advocate for themselves.
Founded in 2004, Camp Badger's arts and enrichment activities serve children of California's Fresno and Tulare County Sierra foothills and nearby San Joaquin Valley towns. These programs help kids tap their innate resourcefulness and encourage them to take creative risks through individual and collaborative artistic expression.
For more visit www.campbadger.com