Indonesia
YTS began working in the seven villages of Bukit Batu in 2009. Using participatory rural appraisal techniques, we assisted each community in the sub-district to make a village development plan, and started providing an annual village development fund to support local livelihoods. The project has identified two livelihood opportunities that show much promise for the development of successful micro-enterprises, these are fish-farming and chicken-raising. In both cases, profitability is limited by the high cost of material inputs, primarily for feed. To overcome this barrier, YTS wishes to provide strategic support to the seven communities by providing training and equipment to manufacture feed from local sources. In 2013, we wish to provide each community with appropriate technology and training in order to enable them to operate local fish and chicken feed-production centers in each village.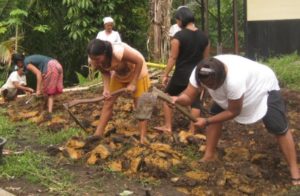 Yayasan Tambuhak Sinta (YTS) is a legally-constituted development foundation established in 1998. The aim is to provide assistance to the indigenous communities of Central Kalimantan. The main objective of this proposal is to enhance the livelihood capacity of impoverished farmers in the seven villages of Kecamatan Bukit Batu, Kota Palangka Raya, and Kalimantan Tengah. YTS uses a participatory approach to development and we have already signed a formal agreement to provide assistance with each village.
YTS has also received approval from sub-district and district government to work in these communities. The foundation has a strong information and communication capability, which it applies in the production of media materials for villagers, government, and other interested parties. Our website can be viewed at www.tambuhaksinta.com.