Donations to support the work of Susila Dharma
We hope you will become involved in the work of Susila Dharma USA! You can start by making a financial contribution to the work of SD Projects in the USA and around the world. If you donate to the SD USA General Fund, your donation will become part of the pool of money we used to help support many different SD Projects—this gives us the flexibility to meet the changing needs of projects; however, you are interested in a particular SD Project, you can also earmark your donation.
To make a one-time donation, Click Here.
Below you will find several other ways to donate to the work of Susila Dharma USA. If you have any questions please contact us.
Susila Dharma USA is a 501(c) (3) nonprofit organization incorporated in the State of Massachusetts in 1978. Susila Dharma USA does not discriminate by age, gender/sexual orientation, cultural, ethnic, or religious beliefs.
---
Monthly Gifts
 If contributing on a monthly basis works with your budget, you can set up an automatic monthly contribution to SD USA through PayPal. You can use your credit card by itself, but the fees we must pay are somewhat lower if you use your Paypal account; and this means, of course, that more of your money goes to support our work.
Donate by Shopping at Amazon
If you use the link below to shop at Amazon.com, Amazon will donate 0.5% of the price of your eligible AmazonSmile purchases to Susila Dharma USA. Click on the button below to set up your Amazon account.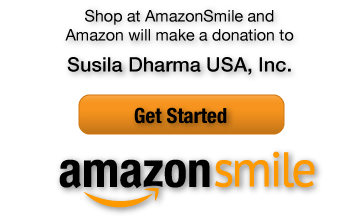 ---
Send A Check
If you feel more comfortable sending a personal check you may do so. Make the check out to Susila Dharma USA and address it to:
Susila Dharma USA
℅ Rifka Several, SDUSA Administrative Assistant
50616 Hwy 245
Badger, CA 93603
---
Matched Donations
Talk with your employer about matching your personal donation. Companies are participating in Matched Giving Programs more and more due to the increasing need for charitable work in the world. Click here for more information, or indicate on the Donation Form that you wish to be contacted directly.
Matched Corporate Giving is an easy way to double your donation to Susila Dharma USA. Everybody wins! Both you and your company are providing tax-free dollars to people and communities in need. The procedure may vary from company to company, but you can talk with your employer about matching your personal gift. For most companies, you simply ask and follow easy instructions.
For many organizations, you can set this up on the company website, where you register your gift, and provide all relevant information. This will include providing Susila Dharma USA's name, address, phone number and our Charitable Tax Number, which we will provide. Your company may also want information regarding the programs we are funding. You can direct them to our website or we can provide hard copy information if necessary. Once the company verifies this information, it typically notifies the donor when the process is approved as well as when the matching funds are sent to Susila Dharma USA.
If your company has a Matched Giving Program in place but sign-up is not available on-line, you can ask your manager how to proceed.
Let us know if you need our Charitable Tax Number or wish to further discuss Matched Corporate Giving.
For more information contact us.
---
Planned Giving – Endowment, Will or Living Trust
Endowment: provides a perpetual gift that supports humanitarian work, even beyond your lifetime. The SD USA Endowment Fund is a capital fund held and invested by Morgan Stanley for long-term development; only the income is distributed.
Will or Living Trust: naming Susila Dharma USA as a beneficiary in your will or living trust can be made in a dollar amount, as a part or percentage of your estate, or as a financial investment. You can also apply real estate, stocks, bonds, mutual funds, term depositions, and insurance as gifts.
See our SD USA Endowment Flyer
Questions? Please contact us.